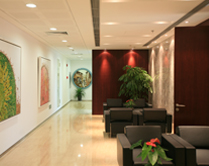 Zhong De Securities Company Limited ("the Company" or "Zhong De") is a securities joint venture established by Deutsche Bank AG and Shanxi Securities Co. Ltd. The Company is strongly positioned within the People's Republic of China, and draws on Deutsche Bank's expertise as a leading global investment bank, and Shanxi Securities' position as one of the first group of securities firms to operate within the country. Zhong De provides a full range of investment banking services to its clients, including securities underwriting and capital markets related advisory services. Hou Wei is Chairman of the Board and DuanTao is Chief Executive Officer.
The establishment of Zhong De was approved by the China Securities Regulatory Commission ("CSRC") in December 2008, and was formally incorporated in April 2009. In July 2009, the CSRC issued a Securities Business License, permitting the underwriting and sponsorship of shares (including Renminbi denominated ordinary shares and foreign investment shares) and bonds (including government bonds and corporate bonds), and other businesses as may be approved by CSRC. In August 2009, the Company obtained a Sponsoring Institution Qualification.
Zhong De is headquartered in Beijing. Its offices are located on the 22nd floor of Deutsche Bank Tower, China Central Place, 81 Jianguo Avenue, Chaoyang District.