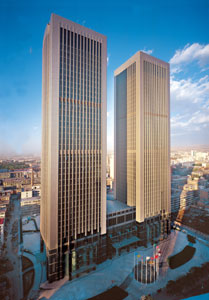 Shanxi Securities Co., Ltd. ("Sco") was founded in 1988 as one of China's first securities companies. After more than 20 years' development, Sco has grown into an innovative type securities company, boasting prudent style, stable business, scientific management, and excellent performance. Sco received IPO approval from the China Securities Regulatory Commission on September 20, 2010, and was listed on Shenzhen Stock Exchange on November 15, ticker code 002500.
Sco has SAIC-registered capital of CNY2518.7 mn, and its founders include: Shanxi Guoxin Investment Group Co., Ltd., Taiyuan Iron and Steel (Group) Co., Ltd., Shanxi International Electricity Group Limited Company, Shanxi Haixin Industries Co., Ltd., CITIC Guoan Group Limited, Shanxi Coking Group Co., Ltd., Shanxi Xinghuacun Fenjiu Group Company Ltd., Shanxi Science and Technology Fund Development Corporation, Shanxi Trust Co., Ltd., Luliang Investment Management Company, Changzhi Administrative and Utilities Entity State-owned Assets Management Center, Shanxi Economic and Trade Assets Operation Co., Ltd. Its shareholders command rich resources, prudent style, high assets quality, and excellent profitability. Its equity structure manifests a diversity of quality resources and the strong-strong coalition among big players.
Sco business coverage includes: Securities brokerage, principle trading, securities asset management, securities investment consulting, securities trade/investment related financial advisory, securities investment fund sales on consignment, intermediary for futures companies, margin trading and short selling, financial product sales on consignment, public offering of securities investment fund management service.
Its qualifications include: Securities investment consulting, online securities dealership on consignment, forex, open-end fund sales on consignment, member of national interbank bond market, member of national inter-bank lending market, eligibility for China Securities Depository and Clearing Co., Ltd. settlement, lead underwriter for entrusted share sales, OTC, IB, bulk trade special session, repo on pledge bond, securities repo, public offering of securities investment fund management, etc.
Zhong De Securities ("ZDS") is a joint venture between Sco and Deutsche Bank – a well-known global investment bank. It is mainly engaged in stocks (incl. Renminbi common shares and foreign-capital shares) and bonds (incl. government bond and corporate bond) underwriting and sponsoring. Apart from ZDS, Sco wholly controls Green Futures Co., Ltd., whose main business is commodities futures brokerage and financial futures brokerage. Longhua Qifu Investment Co., Ltd. is Sco's PE subsidiary, and is mainly engaged in investment management, project investment, FA, and economic info consulting.
Sco has 15 branch companies (managing 63 trading outlets), 15 HQ-controlled outlets, and 40 futures outlets, having presence across Shanxi's prefecture-level cities and key counties. Its footprints can also be found in major cities in China, including Beijing, Shanghai, Tianjin, Shenzhen, Chongqing, Xi'an, Ningbo, Dalian, Jinan, and Fuzhou. Such a network showcases Sco's business architecture with coverage on main cities and focus on key cities, an architecture that takes the foothold in Shanxi Province and spans across China, through which Sco provides full and quality professional service to over 800k clients.
For many years, Sco cherishes the ideology of "credibility, prudence, integrity, innovation, efficiency" to nurture a pragmatic, efficient, and diligent business style. It seeks to cultivate a harmonic, flexible, hygiene, and upright corporate culture, and to build a common platform where Sco and its clients can both grow. Sco has a fundamental corporate aspiration of shareholder interest maximization, client return optimization, and staff value maximization, promotes the mission providing its clients quality and efficient diversified financial services, and has the responsibility safeguarding investors' legitimate rights. Sco believes that the driver of corporate development is system, technology, and management innovation, and with that belief it always seeks optimization and improvement of core competence. To that end, Sco has achieved a health, sustained and fast growing development, and has shaped its own business personality.
For awards and recognitions, Sco has successively received "Excellent Intermediaries" from Shanxi provincial government, "Excellent SME Board Sponsor Institution" from SZE, "Model Entity for Account Self-regulation" from the CSRC, and "Shanxi Labor Day Award" from Shanxi Province Labor Competition Committee. From 2007 through to 2010, Sco took the Golden Key Awards of "China High Growth Securities Company" during China Securities Market Anniversaries for 4 years in a row. In 2011, Sco was recognized by the SAC as the "Excellent Securities Company for Investor Education and Service", was ranked No. 1 in New Fortune's "the 9th New Fortune Most Potential Research Institution", picked the award of the "Most Potential Securities Dealer" from Shanghai Securities News' "the 5th China Best Securities Dealer" assessment. In 2012, Sco was honored as the "Most Prudent Securities Company – the 5th China Institutional Investor Anniversary and Golden Cicada Award" by China Times, and took 2 awards of "China Most Featured Securities Dealer" and "Best Financial Advisory Brand" from the Securities Times' "China Best Wealth Management Institution – the 5th Best Securities Dealer" assessment. In 2013, Sco took 3 awards of the "Excellent Company of Investor Return", "Excellent Company of IR", and "Excellent Company of Social Responsibility" from the Capital Market Players Assessment held by the CSRC Shanxi Branch, received the "Annual Contribution Award" during event of New Shanxi-Commerce Fortune and Intelligence Gala, picked the Best Research Capacity Award during "China Listco Annual Book" compilation meeting sponsored by China Association for Public Companies, was honored as "2013 China Securities Dealer "Golden Path" Award – China Most Innovative Securities Company" during China securities dealer "Golden Path" assessment held by Money Weekly. Sco received the "Award for Supports and Contribution to Shanxi Local Economy" for 3 straight years from 2011 through to 2013.
In future, Sco will adhere to the business legacy of credibility, integrity, and professionalism, to the service mentality of easy-to-understand investment logics, and to the constant effort in more professionalism, scalability, brand power, group synergy, and internationalization. Sco is geared towards being a first-class broker, having specialty, brand influence, and competitiveness.